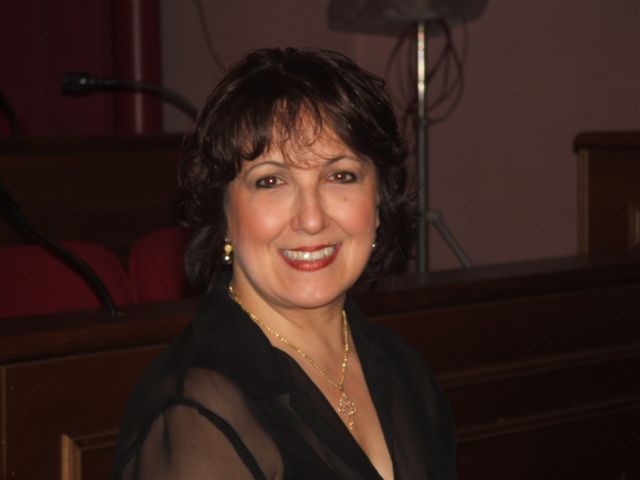 Giuseppina Scravaglieri. Nata a Torino, ha iniziato giovanissima lo studio del pianoforte e si č diplomata con il massimo dei voti sotto la guida di Maria Golia. Si č perfezionata con il M° Jean Micault, seguendo le sue lezioni a Parigi presso L'ECOLE NORMALE "A.CORTOT " dove ha conseguito il Diplome Superieur D'Einsegnement con menzione d'onore e i complimenti speciali della Giuria. Ha partecipato a diversi Concorsi Pianistici nazionali ed internazionali, ottenendo premi e riconoscimenti: finalista al Concorso Internazionale VIOTTI-VALSESIA, 1° premio al Conservatorio di Meudon ( Francia),3° al Concorso Schumann, 1° premio al Concorso Fidapa .Ha seguito un Corso di Clavicembalo con il M° Robert Veyron Lacroix,e di Musica da Camera Con il M° Marian Mika. Ha continuato il perfezionamento pianistico seguendo Stages e Master –Class con i piů importanti Pianisti: Lazar Berman, Alexander Lonquich,Jeffrey Swann.
Ha tenuto Recitals in Italia (Festival Viottiano Vercelli ,Iniziativa C.A.M.T Torino,Rassegna Musicale Concertistica Alghero,Istituzione Universitaria dei Concerti di Sassari, Circolo degli Artisti di Torino, Amici della Musica di Cagliari, I Concerti del Pomeriggio al Teatro Alfieri di Torino , partecipando all'esecuzione integrale delle Sonate di Mozart e Beethoven , ) In Francia ( Conservatoire Marcel Dupre, Auditorium de l'Ecole de Musique di Meudon,AMCCS di Chambery, Soirčes Musicales du Chateau du Cingle di Verna, Centre Musical International d'Annecy), e in Germania (Illinger,Saarbrucken),riportando lusinghiere critiche e successo di pubblico: ("pianista dal suono caldo e comunicativo sorretto da una tecnica eccellente"…[La Stampa] ) Suona anche in formazioni da Camera e con cantanti,spaziando nel repertorio fino alla musica contemporanea.Ha effettuato registrazioni per RTA ed ha partecipato alla registrazione del CD Nuove musiche per il nuovo Millennio,con l'INSIEME CONTEMPORANEO del Conservatorio di Torino.Ha insegnato presso vari Conservatori in Italia ,č stata invitata a far parte della Giuria ai Concorsi di Pianoforte del Conservatorio Nazionale di Chambery e viene invitata in commissione in Concorsi Pianistici Nazionali ed Internazionali. Tiene regolarmente corsi di perfezionamento estivi, attualmente č docente di Pianoforte presso il Conservatorio " A.Vivaldi " di Alessandria.
Giuseppina Scravaglieri Born in Turin, she began her studies when very young and graduated with honors under the guidance of Maria Golia; she improved with Maestro Jean Micault at the Paris "A. Cortot" Ecole Normale obtaining the Diplome Superieur D'Enseignement with Mention of Honour and special Jury congratulations. She is a prizewinner in sevaral major national and international piano competitions: finalist at VIOTTI-Valsesia International Competition, 1st prize at the Meudon Conservatory (France), 3rd prize at the Schumann Competition and 1st prize at the FIDAPA. She studied Harpsichord with Maestro Robert Veyron Lacroix, and Chamber Music with Maestro Marian Mika continuing improvement following Stages and Piano Master-Class with eminent Maestros Lazar Berman, Alexander Lonquich and Jeffrey Swann. Giuseppina Scravaglieri gave recitals in Italy (Vercelli Viotti Festival, Torino CAMT Initiative, Press Musical Concert Alghero, Institution University of Sassari Concert, Turin Artists' Club, Amici della Musica of Cagliari, Teatro Alfieri Afternoon Concerts in Turin and participating in 'The Complete Performance of Sonatas by Mozart and Beethoven'); in France (Marcel Dupre Conservatory, Meudon Music School Auditorium, AMCCS di Chambery, Soirčes Musicales of the Castle of Cingle in Verna, Annecy International Musical Centre); and in Germany (Illinger, Saarbrucken), attracting critical acclaim and public success: (the italian newspaper 'La Stampa' reviewed her performances: "a pianist with a warm sound with eloquent nuances supported by an excellent technique") In addition to her solo career she plays in chamber music groups and as master accompanist with singers, ranging to the contemporary music repertoire. She recorded for RTA and participated at the "Nuove Musiche per il Nuovo Millennio" cd recordings with the "Insieme Contemporaneo" at the Turin Conservatory. Giuseppina Scravaglieri had an intensive teaching activity in several italian Music Conservatories, was invited to join the jury for the National Conservatory of Chambery Piano Competition and in sevaral national and international piano competitions. She regularly gives Masterclasses in summer, and is currently Professor of Principal Piano at "A. Vivaldi" State Conservatory of Music in Alessandria.