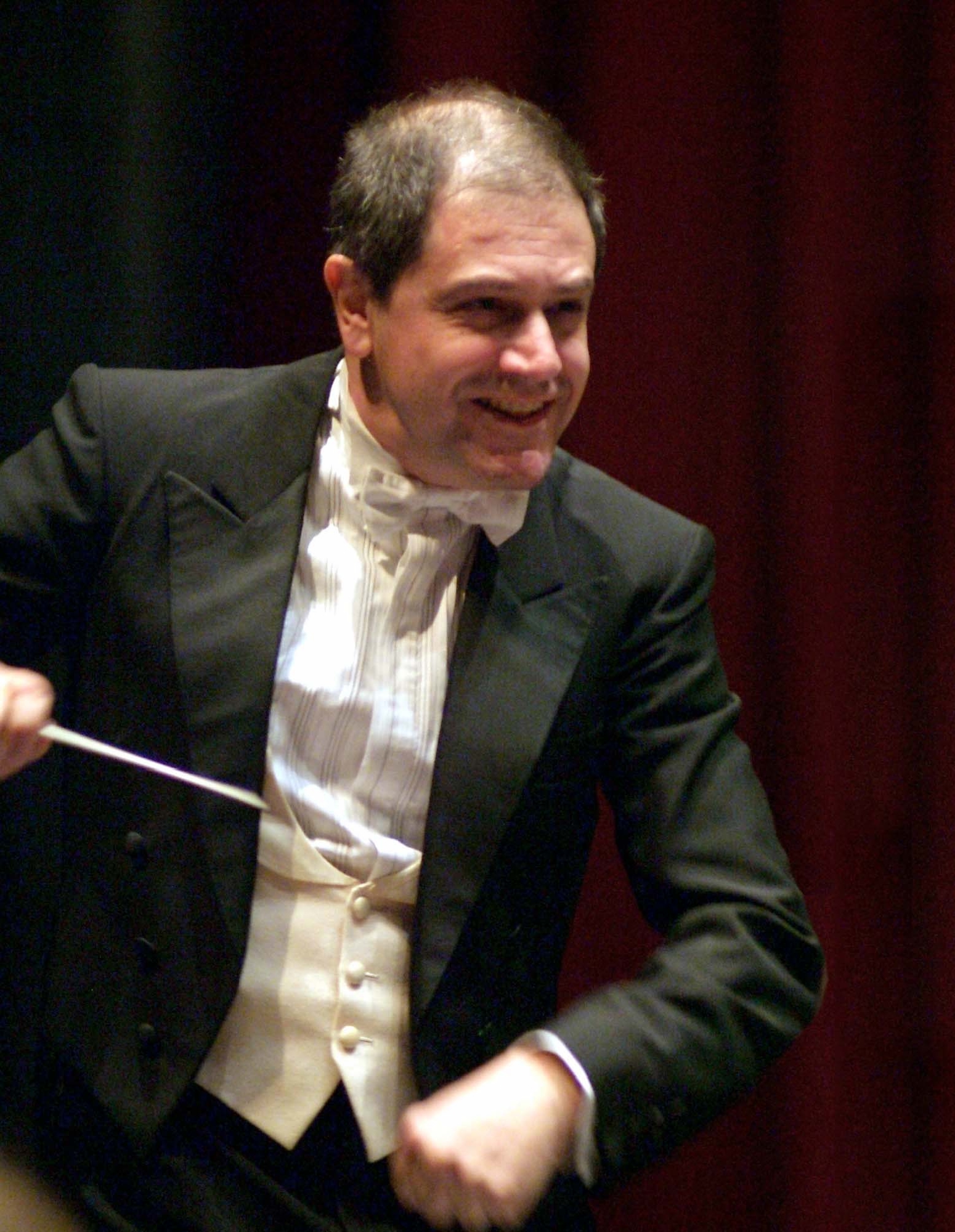 Paolo Ferrara. nato a Milano 1958, ha studiato Composizione con i Maestri Ruggero MAGHINI e Carlo PINELLI e Direzione d'Orchestra con il M° Carlo DAMEVINO diplomandosi con il massimo dei voti. Ha partecipato ai corsi dell'Accademia Chigiana di Siena con il M° Franco FERRARA. Ha diretto numerosi concerti in Italia e all'estero con l' Orchestra del Conservatorio di Torino, con l'Orchestra del Teatro Regio di Torino con l'Orchestra Sinfonica Abruzzese, con I Solisti Aquilani, con il Teatro Carlo Felice di Genova e con l' Orchestra Sinfonica di Sanremo, dove nel 1987 ha vinto il 3° Premio al Concorso Internazionale per Giovani Direttori "Gino Marinuzzi".
Ha diretto l'Ensemble Europeo Antidogma Musica in importanti sedi europee ed extraeuropee quali Ginevra, Santiago de Compostela, Alicante, Las Palmas, Amsterdam, Bucharest, Parigi - Centre Pompidou, Torino, L'Aquila, Roma, Alessandria, Tokio, Helsinki, Melbourne, Oslo e dal 1994 al 1998-2004-2006 ha collaborato con la Kansai Philharmonic Orchestra e con la Telemann Chamber Orchestra di Osaka, dove ha riscosso significativi successi.
Nel 1996 è stato direttore ospite dell'Orchestra Sinfonica di Porto Alegre - Brasile. Ha pubblicato vari Compact Disc, ("L'histoire du soldat" di I. Stravinsky, una raccolta di arie d'opera italiane per la RCA Victor con la Kyoto Symphony Orchestra e altri). Nel 2003 è stato direttore ospite della UGASO –University of Georgia-Atlanta Symphony Orchestra in Atlanta – Georgia – USA e Nel 2004 presso la Century Philharmonic Orchestra di Osaka. E' docente di Armonia e Contrappunto e di Direzione d'Orchestra presso il conservatorio A. Vivaldi di Alessandria.
Paolo Ferrara was born in Milano in 1958 and studied Composition with M° Ruggero MAGHINI and M° Carlo PINELLI and Orchestra Conduction with M° Carlo DAMEVINO, obtaining the highest degrees and graduating with honours. Participated in specialization courses of the Chigiana Academy of Siena with M° Franco FERRARA. He conducted numerous concerts throughout Italy and also abroad with the Orchestra of Turin Conservatoire, the Sinfonica Abruzzese Orchestra, "I Solisti Aquilani" Orchestra, "Carlo Felice" Theatre of Genova, and with San Remo's Symphonic Orchestra where in 1987 he won the Third Prize at the "Gino Marinuzzi" International Musical Contest for Young Conductors. He conducted the Ensemble Europeo Antidogma Musica in important European cities and abroad, such as Ginevra, Santiago de Compostela, Alicante, Las Palmas, Amsterdam, Bucharest, Paris—Pompidou Center—,Torino, L'Aquila, Rome, Alessandria, Tokyo, Helsinki, Melbourne and Oslo. From 1994 to 1998 and 2004-2006, has been invited by the Kansai Philharmonic Orchestra and the Telemann Chamber Orchestra of Osaka, Japan, repeatedly getting remarkable success. In 1996 he was guest-conductor of the Symphonic Orchestra of Porto Alegre in Brazil. He recorded several CD (Stravinsky's "Histoire du Soldat", a repertoire of Italian Opera with the Kyoto Symphony Orchestra for the RCA-Victor label and others). In 2003, he conducted the University of Georgia Symphony Orchestra (UGASO) in Atlanta, United States, and in 2004 conducted the Century Philharmonic Orchestra of Osaka, Japan. He is professor of Harmony and Counterpoint, as well as Orchestra Direction at the Antonio Vivaldi Conservatoire of Alessandria.