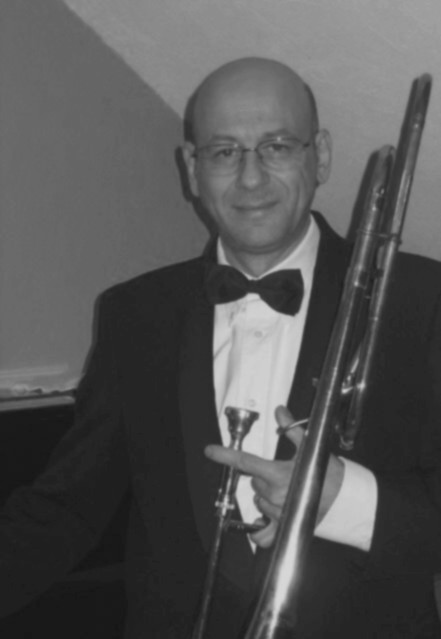 Fausto Galli. Si è diplomato in trombone sotto la guida del Prof. Pietro Uccelli al Conservatorio di musica G.B.Martini di Bologna nel 1982; successivamente entra nei corsi professionali per orchestra "giovanile Italiana" a Fiesole.
Suona in varie produzioni lirico- sinfoniche presso i teatri di Terni, Sulmona, Chieti, Comunale di Bologna, Ensemble Garbarino. Dal 1984 al 1994 suona stabilmente nell'orchestra del teatro La Fenice di Venezia, collaborando con varie orchestre da camera: Bologna, Trento, Ravenna, Padova, Munich (D) e in varie formazioni strumentali: Venice brass Quintett, Ottoni di Verona, gruppo d'ottoni "Raionance".
Collabora come strumentista e insegnante ai corsi internazionali per orchestra di Vichy (F). Dal '94 al '96 studia direzione d'orchestra presso A.R.D.I.M. di Lyone (F) sotto la guida del Prof. Philippe Dulat.
Si specializza nel repertorio trombonistico francese con il professore del C.N.R. di ClaireMontferrand sig. Abel Thomas.
Partecipa a varie creazioni sinfoniche e si esibisce come solista con varie orchestre: Grenoble, Limoge, Puy Guillaime, Vierzon la Romene, Thonon, Vierzon, Beçanson, Reims.
Dal '96 entrato nelle graduatorie nazionali Italiane per l'insegnamento, è docente presso vari conservatori: Reggio Calabria, Bari, Cagliari.
Svolge un'intensa attività concertistica in duo con pianoforte, esibendosi in varie città italiane come Bologna, Roma, Stresa, Taormina e Catania, aggiudicandosi premi a concorsi Nazionali e Internazionali.
Dal 2001 è docente in ruolo presso il conservatorio "A.Vivaldi" di Alessandria e mantiene collaborazioni con O.S.E.R. di Parma,Teatro comunale di Modena,Teatro comunale di Bologna.
Fausto Galli. Graduated in Trombone in 1982 under the guide of Prof. Pietro Uccelli by the Conservatory of Music "G.B. Martini" in Bologna. Subsequently he made part of professional courses of "Giovanile Italiana" Orchestra in Fiesole. He plays in various lyric symphonic productions by many theatres like "Comunale di Bologna", "Ensemble Garbarino", "Theatre of Terni", Theatre of Sulmona" and "Theatre of Chieti". Between 1984 and 1994 he played in continuous way in the theatre Orchestra "La Fenice" in Venice in collaboration with some of the most prestigious Orchestras: Bologna, Trento, Ravenna, Padova, Munich (D) and moreover Venice brass Quintet, Ottoni of Verona, Brasses Group "Raionance". He collaborates as instrumentalist and teacher at International Courses for Orchestra in Vichy (F). Between 1994 and 1996 he studied direction of orchestra by A.R.D.I.M. in Lyone (F) as a pupil of Prof. Philippe Dulat. He perfects his studies in repertoire "trombonistico francese" together with a Professor of C.N.R. ClaireMontferrand, Mr. Abel Thomas. Galli is part of some symphonic creations and he exhibits himself as soloist with various Orchestras: Grenoble, Limoge, Puy Guillaime, Vierzon la Romene, Thonon, Vierzon, Beçanson, Reims. Since 1996 he has been teaching in many Conservatories: Reggio Calabria, Bari, Cagliari. He plays with a pianist in a lot of Cities and he participates at a lot of National and International competitions. Fausto Galli is a teacher by the Conservatory "Antonio Vivaldi" in Alessandria since 2001 and he carries on collaboration with O.S.E.R. of Parma, Theatre of Modena and Bologna.