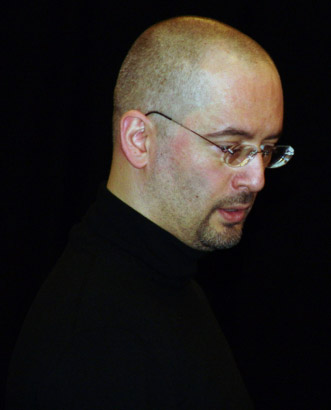 Marco Berrini. Direttore di Coro, Direttore d'Orchestra e Didatta. Ha completato la sua formazione accademica con gli studi musicologici. Vincitore di Primi Premi nei più importanti Concorsi Corali Nazionali e Internazionali, è stato Finalista alla Prima edizione del Concorso Internazionale per Direttori di Coro "Mariele Ventre" di Bologna (2001) dove ha vinto il 3° premio ex-aequo.
Dal 1989 al 1992 è stato Maestro Sostituto Direttore del Coro da Camera della Rai di Roma col quale ha effettuato registrazioni per RAI Radio Tre.
È direttore artistico e musicale del complesso vocale professionale Ars Cantica Choir & Consort, del Quartetto Vocale S. Tecla, formazione professionale del Duomo di Milano; ha fondato e dirige il Coro da Camera del Conservatorio "Antonio Vivaldi" di Alessandria.
Ha diretto in Spagna, Portogallo, Francia, Germania, Svizzera, Austria, Israele, Argentina. E' stato Direttore Ospite al Co.Na.Jo. (Coro Nazionale Giovanile) dell'Argentina e del Coro del Teatro Municipale di Cordoba (Argentina). Collabora in qualità di Direttore Ospite con il Coro del Teatro dell'Opera di Malaga (Spagna).
Ha curato la pubblicazione di musica vocale per le case editrici Suvini Zerboni, Carrara, Rugginenti, Discantica, BMM. È regolarmente chiamato a far parte della giuria di concorsi corali nazionali ed internazionali e a tenere master di formazione e perfezionamento per cantori e direttori in Italia e all'estero.

Marco Berrini. Choir Director, Orchestra Director, and Teacher. He completed his academic education in Musicology.
Winner of the First Prize in many important National and International Choir Competitions, he was Finalist in the First edition of the International Competition for Choir Directors "Mariele Ventre" (Bologna, 2001) where he was awarded the 3rd prize (tie).
From 1989 to 1992, he was substitute choirmaster of the RAI Chamber Choir of Rome which incised recordings for RAI Radio Tre. He made recordings under the label Sarx Records, where he served as Artistic Director since 1993. He supervised publications for vocal music for publishers Suvini Zerboni, Carrara and Rugginenti. He was editor of the La Cartellina (1988-1998), a magazine specializing on Music and Choral Didactics.
From 1989 to 1992 he was Substitute Director of the Italian national broadcasting network (RAI) Chamber Choir in Rome, with which he made recordings for RAI Radio 3. He is Musical Artistic Director of the professional vocal ensemble Ars Cantica Choir & Consort and of the Quartetto Vocale S. Tecla, professional group of the Dome of Milan. He has founded and directs the Chamber Choir of the Conservatoire "Antonio Vivaldi" of Alessandria.
He has directed in Spain, Portugal, France, Germany, Switzerland, Austria, Israel, and Argentina. He has been Invited Director of the Co.Na.Jo. (Youth National Choir of Argentina) and of the Polyphonic Choir of Cordoba Province (Argentina). He works as Invited Director with the Chorus of the Opera House of Malaga (Spain).
He has edited vocal music works for several publishers such as Suvini Zerboni, Carrara, Rugginenti, Discantica, and BMM. On a regular basis he is member of the jury in national and international choir competitions. He gives classes and master-classes for choir singers and directors in Italy and abroad. He is a member of the Technical-Artistic Commission of the Regional Association of Choirs of Valle d'Aosta region (A.R.CO.VA).
He teaches at the P.I.A.M.S. (Papal Ambrosian Institute of Sacred Music) of Milan. He holds, as professor winner of a national competition, the course of Choral Practice at the Conservatoire "Antonio Vivaldi" of Alessandria.